Aluminium is the latest material to be used by padlock manufacturers since the price of brass has increase hugely in the last 5 years.

Aluminium has always been regarded as a light and soft metal but when extruded from a solid block it is actually a very strong material with highly weatherproof properties. Don't be put off by the weight of an aluminium padlock, they are often much stronger than their heavier counterparts.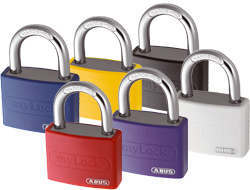 These vinyl coated padlocks are both light and secure with a hardened saw resistant shackle and a double bolted mechanism. Available in 6 colours and a plastic coat that allows you write on the lock using a permanent marker.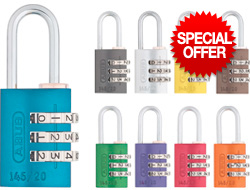 Ideal for Lockers! The ABUS 145 Series is state of the art and the only aluminium combination padlock on the market. They weigh in at only 40g and still use a hardened steel shackle. We hold 20mm, 30mm and 40mm sizes in 9 different colours each. They are the first choice for Peli Cases due to their high quality and low weight.