Diskus / Round Shackle Padlocks
Diskus padlocks are popular for a few reasons. By their very nature they have a closed shackle design which restricts access to bolt-cutters and saws. Below is an image that shows how a standard padlock can be easily exposed to bolt cutters by comparison: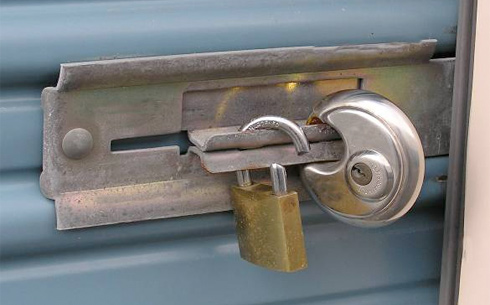 They also retain their key when unlocked, making it less likely that they are left that way after use. When used with a Hasp and Staple they make an excellent security product. For additional information please see our dedicated Discus Advice Section. If you require Keyed Alike discus padlocks please scroll down.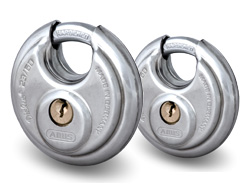 Even as the entry level ABUS Diskus Padlock it is of a higher quality and security rating than almost every other brand on the market. A stainless steel case and weatherproof internal components make it highly resistant to corrosion and a hardened steel shackle is strong enough to resist force attacks. Available in two sizes.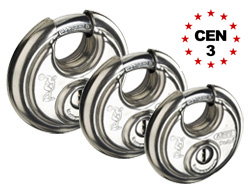 Our most popular and highly secure discus padlock including a stainless steel weatherproof body and hardened steel reinforced and an anti-drill key guard. The unique construction of ABUS diskus padlocks give them a superior quality to many of their counterparts up to an insurance approved CEN grade of 3. Each individual padlock is hand tested in Germany to ensure an exceptional level of quality is achieved.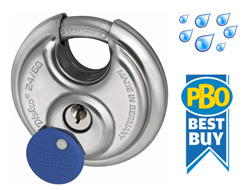 A fully weatherproof marine grade Diskus padlock by ABUS made entirely from non-corrosive materials including the 360 degree anti-cut protection of the higher security Diskus padlocks. Available in three sizes.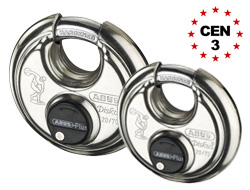 This padlock is built to the same specification as our high security Diskus Padlocks but including the addition of the ABUS Plus mechanism with 250,000 key variations with keys that cannot be copied. It carries a CEN Grade 3 certification.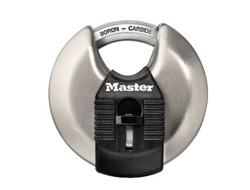 A discus padlock incorporating a strong octagonal shackle for extra protection against bolt cutter attacks. Combined with the closed shackle design of a discus, this makes for a highly security padlock at a very reasonable price.
Although you can use any lock with a hasp & staple, discus locks are especially suited to them. The discus lock itself is designed to expose only a small part of the shackle and so when used with a hasp & staple, even more of the lock shackle is shielded. They form a highly secure team, resistant to bolt cutter attack and saw attacks.
Fully weatherproof and specially designed for use with discus padlocks in such a way that the shackle is protected from unlocking tools, saw and force attacks. Note that this product is designed for doors which close flush without a large gap.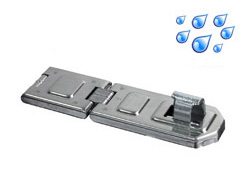 This is the same as our fully weatherproof standard hasp but includes an extra joint to enable it to be secured at right angles and opened beyond 90 degrees. Specially designed for use with discus padlocks in such a way that the shackle is protected from unlocking tools, saw and force attacks.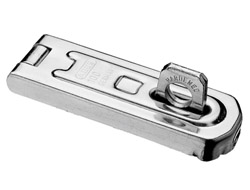 The horizontal pin allows the hasp to be used by any traditionally shaped padlock but also makes it a popular choice for installing the hasp itself vertically (pointing up or downwards) at the top of a door or closing lid.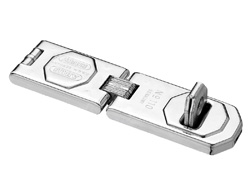 This hasp and staple is designed for use with standard padlocks, especially closed-shackle types. The vertical staple will allow a closed shackle padlock to sit in it's normal orientation.