Also known as block, straight shackle and warehouse padlocks, they are designed specifically for roller shutters but often used on warehouses and containers due to their high security design. The straight shackle goes through the two rings and connects to the block padlock ensuring maximum strength and minimum amount of shackle exposure making it exceptionally difficult to get cutting tools to it. Many of the blocks themselves are made of hardened materials making it very hard to smash them off also.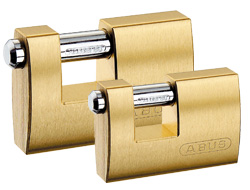 Straight shackled or shutter padlocks can be used in a variety of situations where a high-security padlock is needed but are ideal for security shutters, gates and barriers.
A straight shackle or shutter padlock encased in hardened steel for added security gives this high security padlock a CEN insurance approved grade of 3. Includes rust free internal components and an anti-pick mechanism. Due to their design they are often used on warehouse doors and the enclosed lock boxes on shipping containers.
A straight shackle combination padlock made from solid brass and covered with a protective plastic casing for added impact resistance and weatherproofing. Although it is often known as a shutter lock it can be used in any situation and affords the higher security of a "closed-shackle" design.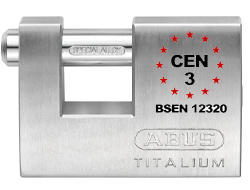 Another quality addition to the ABUS Titalium range. This 70mm shutter padlock is compact and leightweight yet extremely tough with a 12mm Special Alloy shackle.