In the last 2 years the padlock industry has been shaken up with the shortage and increased cost of copper which is the main ingredient of Brass. Brass padlocks have until now been the standard for a low-medium security lock.

ABUS, have now developed a new alloy called Titalium. This consists of both aluminium and titanium in just the right quantities to be both light in weight, strong and highly weatherproof. Strangely enough it is also cheaper than the equivalent brass padlock.

We would now recommended that anyone considering a brass padlock should switch to the Titalium equivalent since brass will be slowly phased out over the next 2-3 years.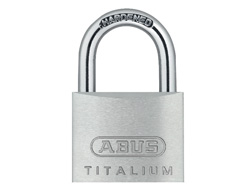 Excellent for lockers in the 30mm or 40mm size since they are very light weight and have a very high differ number which makes it nearly impossible for someone else to have the same key.
The standard open shackle Titalium lock is the most popular in the range and will eventually replace the ABUS 65 and 85 series brass padlocks. The same high quality mechanisms are built into this new improved body. Available in five of sizes from luggage and lockers (20mm body) up to gates and doors (60mm body).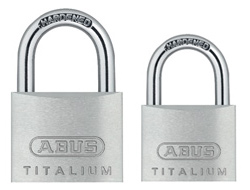 We are now the only company in the world to offer the new Titalium Padlocks in a masterkey format. You can now have multiple locks which can be overridden with a single masterkey but with the strong and light weight of Titalium! Unbelievably they are also cheaper due to the lower cost of aluminium alloys in recent years! Stronger, Cheaper and Lighter!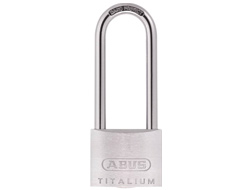 These are the longer shackle version of the standard Titalium padlocks. They are basically the same lock made from the same special alloy offering excellent security in a lightweight and strong body. Available from 30mm to 5mm body widths.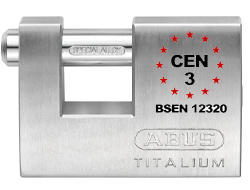 Another quality addition to the ABUS Titalium range. This 70mm shutter padlock is compact and leightweight yet extremely tough with a 12mm Special Alloy shackle.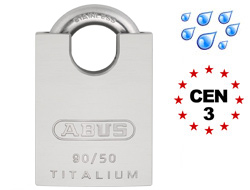 A fully marine grade closed shackle lock using a stainless shackle with Titanium & Aluminum alloy body. Side walls prevent attacks directly to the shackle and afford it an insurance approved CEN grade of 3!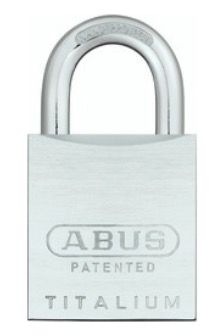 The Eighty Three / Titalium AL range has a 40mm Titalium (aluminium alloy) body width and interchangable cylinders to enable a registered, restircted key way for additional security.