Restricted / Protected Padlocks
A padlock that uses a key that is very difficult to copy or is unique to your lock is known as a restricted or protected keyway. There are varying degrees to which the protection is afforded which depends on how difficult the key is to get copied and how many key variations there are in circulation. These locks offer the maximum protection with keys that not only can't be copied, but every owner is individually recorded in a central database.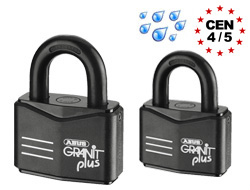 Now available in up to CEN grade 5, the world leading Granit Padlock uses an ABUS Plus disk cylinder with 250,000 key variations and keys that cannot be copied. The shackle and body are made from hardened alloy steel. Available in two sizes. This latest model is also a fully weatherproof marine grade padlock with a cataphoretic coat to provide 40 years of corrosion resistance!

Insurance Ratings:
- BSEN 12320
- CEN 4-5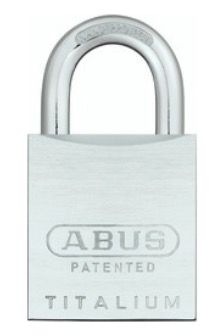 The Eighty Three / Titalium AL range has a 40mm Titalium (aluminium alloy) body width and interchangable cylinders to enable a registered, restircted key way for additional security.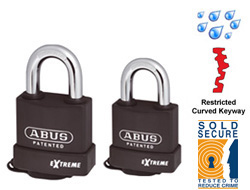 The ABUS Extreme series is a very popular lock since it is both highly secure and weatherproof. It is therefore a good choice as a restricted lock. The patented curved Bravus cylinder system is about as secure as you can get on the market and each lock is specifically managed by the ABUS UK headquarters.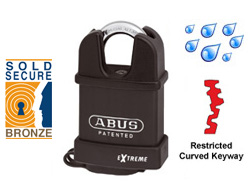 This is the closed shackle version of the new Extreme range by ABUS. It also uses the patented curved Y-keyway that the open shackle restricted locks have. You may opt for the closed shackle version to help prevent against bolt cutting attacks or if you insurance company specifically requires a closed shackle design.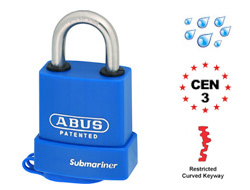 The most weatherproof lock in our range is the Submariner and this is the restricted version of the lock using the special curved keyway and integrated stainless steel pins making it 100% non corrosive.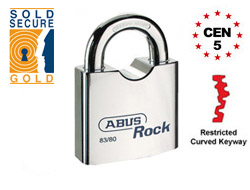 The ABUS Rock is about as strong as it gets with a CEN 5 insurance rating. On top of that, it has the unique protection of the Pfaffenhain Y-Cylinder. The keys cannot be copied and are individually managed so that all owners of this restricted lock are kept in a secure central database.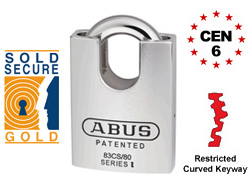 The best of the best. You cannot get a stronger lock. This is a genuine CEN rated 6 lock, made in Germany and assembled in the UK. It is the highest insurance grade on the market, using a patented anti-copy dimpled key.

Note that this uses a patented dimpled key so cannot be compared to the cheaper alternatives on the market using a standard keyway.

Insurance Ratings:
- BSEN 12320
- CEN 6
- Sold Secure Gold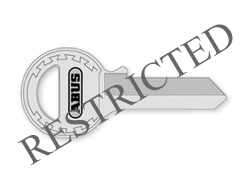 Please order here if you require additional keys for your restricted padlock order or the ABUS CEN 6 Rock Padlock. If you need extra or replacement keys for a previous order you can do that here also. Some keys take 5 days to cut.