Lockout Tagout Padlocks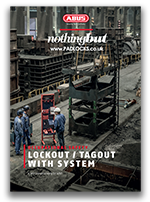 Below are various lockout tagout padlocks and each have their place for applications of petroleum, electrical, marine and so forth. In each we have details, pricing, photos and instructional videos. As best practice, a lockout padlock should retain its key when open, have an insulated plastic cover over the shackle and have many different key differs. The latter makes the chance of two people having the same key extremely unlikely.
However, not everyone needs to the full belt an braces approach and there are many more different sizes and types we supply. ABUS does a particularly well illustrated overview. Click the catalogue thumbnail to view the PDF.
Lockout Devices
There is an array of different devices for locking out switches, valves, handles and plugs. In each below you'll find specifications and instructional videos. If you're unsure just give us a call.
Padlock & Key Cabinets
Often our customers require highly secure cabinets to store their safety lockout padlocks and prevent potential unauthorised tampering or copying of keys.