CEN grade is a testing standard for padlocks and stands for Central European Norm. Major padlock manufacturers came together to devise a testing standard that was relevant to padlocks. Before this testing system was brought in, some insurance companies tried to use the door lock and safe standards but it simply did not work. You may even still get asked to meet a specification that does not relate to padlocks as some insurances companies may have not updated their advice.
There are 6 levels within the CEN grade, ranging from general use to maximum security. CEN Level 6 padlocks are rare and are really for more commercial purposes. Those intended for consumer purposes, CEN level 5 is usually the highest used. We tend to recommend anything between 3-5 for high security but do follow at least the minimum CEN level requested by your insurance company.
The grade ratings are:
GRADE 6 – Maximum Security
GRADE 5 – Extra High Security
GRADE 4 – High Security
GRADE 3 – Medium / High Security
GRADE 2 – Standard Security
GRADE 1 – Low Security
However, the grading system is slightly flawed in that a lock only needs to fail one of the minimum criteria in a single category, it is then reduced to its lowest scoring grade. This means that some padlocks may perform like a CEN 6 padlock in all tests but fail one category such as minus 40-degree centigrade. It would therefore be lowered accordingly.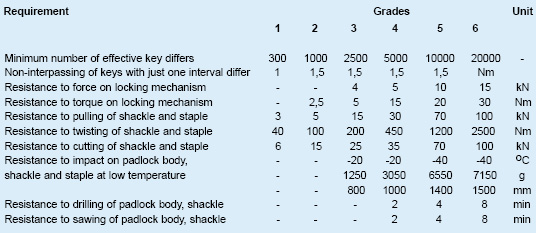 The other major issue is that there is no policing of the system. Many manufacturers do not have their locks independently tested and actually grade the lock themselves. The only manufacturer that we have found to test their products correctly, according to the CEN standards, are ABUS.
For all of its problems, the CEN system is much better than simply stating that your padlock must be of a closed shackle design, which many insurance companies still rely on. We stock many open-shackle padlocks that are two grades higher in the CEN system than some of our closed-shackle locks. If you are faced with this problem and a closed-shackle padlock is simply not convenient, ask your insurance company for a relevant CEN Grade.
Related Topics:
What is BS EN 12320?
What is defined as a closed-shackle lock?
Related Products: