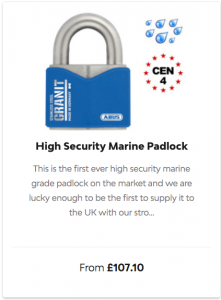 When looking for a high-security padlock for use by the sea, then the latest addition to the Abus Granit range is definitely one to consider. The marine grade Abus 37ST/55 is constructed with a 12mm shackle and large body in stainless steel, along with inner components made from non-corrosive materials.
The use of stainless steel offers great protection against the corrosion issues often seen at coastal locations but can be a relatively soft metal making it easier to cut. Abus use an optimum grade stainless steel, bringing both strength and resistance to this padlock. This means this padlock is not only high security but can also handle the harsh marine environments. Not an easy task.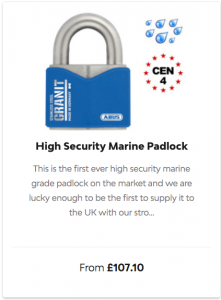 As we have come to expect with the Granit range, these CEN 4 insurance rated padlocks are built using the Abus Plus key system. However, the Abus 37ST/55 keyed alike version uses the Plus key system with the addition of the SZP keyway feature which gives enhanced protection against copying.
Although this padlock is available in both keyed differ and keyed alike versions, the latter can be custom built to match the key codes of your current Granit range. This will give you the ability to use your new SZP keys across your existing suite of Granit padlocks.
You will, however, not be able to use the old plus keys in the new 37ST/55 padlock but this may be a small price to pay for the added key protection. The non-directional keys make it easier to operate too, so ideal if opening your padlocks in low light or even the dark. One key even comes with its very own LED light built-in.