LPS 1654 is a standard that was produced by the Loss Prevention Certification Board (LPCB). The LPCB is not a board 'per-se' but a brand name of the BRE Group which produces testing standards.

The standard itself focuses on the time taken to compromise a padlock and gain access to the object / property it is securing.
The key difference with LPS 1654 and other testing standards such as Sold Secure, BSEN 12320 and CEN is that the grades are determined by the time taken to remove a padlock based on different types of tools used commonly by criminals. The other testing standards base their grades on very prescriptive technical attributes and strengths.
The benefit of LPS 1654 is that the locks are tested to mirror, as closely as possible, the types of attacks that a padlock might encounter in the real world as oppose to a laboratory. In theory the standard should be excellent. However, it does have a number of flaws:
Levels of Security
There are 8 levels of security and each category is allocated a different tool set. For example Tool set A contains things like, hexagon wrenches, spanners and a screwdriver. By category D you are using cordless disc grinders, bolt cutters and  a sledgehammer. The full list can be downloaded within the full PDF Standard Guide.
This table shows roughly the working time for each tool set.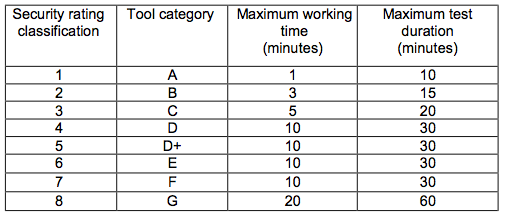 The difficulty with standard is that it doesn't have testing controls. Where one person takes 5 minutes, it might take another person 10 minutes. This is slightly mitigated by the fact that the locks can only be tested by the LPCB and not self certified. However, it does not inspire the manufacturers with confidence and as of June 2015 only 2 brands of padlock have submitted their locks for testing under LPS 1654.
The second problem is that the levels of security appear to be disproportionally high. They have stated that:
"The security rating system is loosely based upon domestic risks (1 and 2), commercial risks (2, 3 and 4), high security risks (5 and 6) and extremely high security facilities (7 and 8)."
However, under the current system a CEN 4 & Sold Secure Silver padlock which would be regarded as 'high security' would only make level 2 due to a perquisite for 'effective differs'. Therefore, even the best Abloy padlock, which is arguably the strongest padlock in the world, only achieves level 3 out of 8.
Lastly, have a look at the chart here. The grading system is mostly designed on a real world testing programme but then they create prescriptive benchmarks on mechanism key differs. I.e. you could have a lock that is totally indestructible but fail to exceed level 4 if they don't build a mechanism with more than 100,000 differs.
Broadly speaking the LPS standard is good and very thorough but lacks the thought in terms of what is currently on the market and what will be useful in terms of understanding what sort of lock is require for a certain application. Therefore it is unlikely that the standard in it's current form will be accepted by many insurance companies or manufacturers.
For now BSEN 12320 / CEN will remain the go to standard for padlocks.