Sometimes you need a good quality all-purpose padlock that is robust enough to be used outdoors as well as indoors. The laminated Abus 41 series is one such padlock that is available in a number of sizes. These laminated padlocks are not to be confused with the cheaper alternative you can now find on the market. There are a number of factors that make the Abus Eterna laminated padlocks highly superior. Abus have developed a treatment process which gives their laminated locks a 40 year lifespan in accelerated weather testing. Not suprisingly, they are of course keeping this treatment process highly secret but we do know it gives a steel lock complete with a high grade of weather resistance and strength.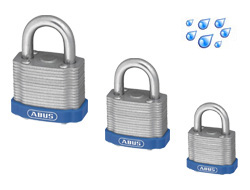 The Abus 41 series are available as an off the shelf product but they can also be made to order in keyed-alike and master keyed sets giving plenty of flexibility. A great advantage this series has is the ability for key codes to be matched across the variety of sizes. We often get asked for padlocks of different sizes to be keyed to the same code, which means you can use the correct size for all your applications without the need for loads of keys. This is not always possible in the majority of padlocks so it can be very useful if you need to mix sizes.
Anyone who has used a padlock outside knows how the elements can quickly cause issues for any padlocks not designed to withstand the weather.The standard process is to galavanise the laminated padlock once it has already been manufatured which will greatly reduce the weather protection. However, Abus treat each and every steel plate that goes into the making of their laminated padlocks which gives a much better level of restistance against the weathered conditions it has to face.
Generally locks manufactured for all weather conditions use the softer metal of stainless steel, rather than the stronger hardened steel as this has a tendency to rust. The Eterna laminated lock processing means that Abus can bring together the tough 100% hardened steel construction and the weatherproof qualities needed.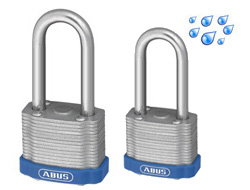 With the lower grade laminated padlocks often a fail point is the ease the plate rivets can be sheared off the bottom by force, therefore negating the padlock security. With the Abus model the rivets are compressed within the body, allowing the padlock to retain its security even when the rivets are damaged or attacked from the outside. For applications where you need a little more room in the shackle these padlocks are also available in a long shackle version for both the 40mm and 50mm verions yet still retaining the security and weatherproof qualities of the range.