Safety padlocks serve to lock a specific piece of equipment, valves or electrical junctions to prevent accidental use during maintenance or repair. They can also be used to restrict access to area whilst work is being undertaken. Preventing accidental operation of machinery or electrical junctions is integral to industrial safety. Coloured padlocks can be used to code a trade or location showing who is still working on the machinery at a glance.
It is important to select the correct key system for the area in which they are to be used. Where there are multiple personnel operating in the same area then key differ is ideal, as it prevents potential duplication of keys. If a single employee is to operate multiple locks then using a keyed alike system means that same person can open all of their locks with one key. Another employee then can be given a different colour and key code to operate their set of locks. Remember personnel should not be able to open a lock that has been applied by someone else.
The exception to this is where a master key suite in operation. This allows individuals to operate their locks under the keyed alike or differ system but gives access to an overall manager incase of emergency. The master key should be kept in a secure location accessible by management only to prevent accidental access to an individuals padlock. Where there are multiple individuals working on a single piece of machinery then it can be secured with a lock off hasp secured with multiple padlocks, this then prevents it being accessed without all key holders present.
The Zenex S31 Safety Padlock (40mm) is already imprinted with "Danger – Locked Out – Do Not Remove" on the front of the lock as standard and it comes with an additional set of labels so you can easily mark them up with your codes or names. They come in a choice of six different colours and are available in either keyed alike or key differ options. Constructed from Xenex alloy, with the ability to withstand temperatures from -70 to +350F, they are resistant to impact, UV and chemical corrosion. The locks are also silicone free minimising contamination and are available in both keyed alike or key differ. As the key differ version carries over 100,000 pin configurations it is almost impossible for the accidental removal by another user to occur. For security reasons they are key retaining and come with a single key to ensure individual operation.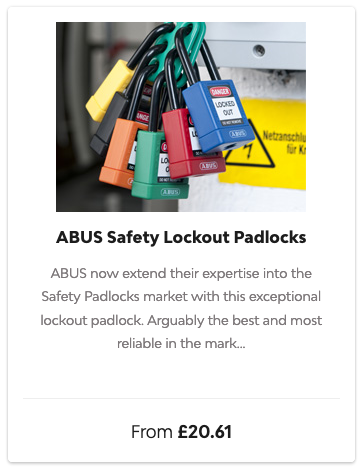 The Abus 74/40 Safety Lockout padlock is 100% non-conductive, with an insulated shackle and comes in an array of 10 colours. Each colour is keyed to a different suite to enable you to distribute them across the workforce. Built with a key retaining cylinder it means the key holder must be present in order for the padlock to be locked off. These padlocks come with a single key to prevent keys being distributed to multiple people. We do not provide additional keys with this model.
For those applications where you need anti-spark brass shackle then the Abus T84MB/40 Brass shackle padlocks are designed specifically for safety use and come fully tested for use around petroleum, other flammable liquids or gas. They are marine grade so are ideal for use in harsh environmental conditions. With a choice of six colours, they are available in both key differ and keyed alike versions, with each colour being built to its own code to prevent access to multiple colours.
Manufactured from extruded aluminium, the Abus 72/40 Aluminium padlock is a good alternative to brass padlocks if your application is suitable. The hardened steel shackle is zinc coated to prevent reaction with steel and the aluminium body gives resistance to corrosion. Produced in the 40mm size, keyed alike option only, they give a lightweight but secure choice in a variety of colours. Each of the colours carries their own sets of codes so they cannot be replicated across multiple colours avoiding the ability for users to open other padlocks.