Safety lockout haps are used in conjunction with safety padlocks and can protect against unexpected start-up of machinery, valves or power supply. The hasp is attached to the primary isolator and each individual working on that area can attach their safety padlock. As each worker completes their tasks they can remove their padlock. Once all tasks are complete and the last padlock has been removed, then the machinery, valve or power source can be switched on again.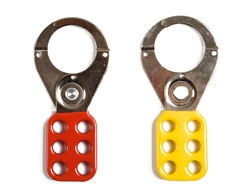 The Abus 702 Lock Off Hasp is available in red or yellow and can take up to six padlocks. It is ideal for isolating electrical switch gear or valves and works well with the aluminium coloured padlocks or brass shackled padlocks.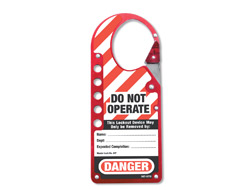 Where there is a requirement for a labelled hasp then the Masterlock 427 comes printed with a large warning sign "Danger – Do Not Operate". This hasp is made from aluminium and stainless steel and is anodised in red for increased visibility. Capable of holding up to five padlocks, you are able to attach two hasps together to increase this capacity.
For sensitive electrical application then the Masterlock 428 made from thermoplastic nylon is ideal. it is also 100% anti-spark so equally suitable for petroleum applications. The non-conductive hasp can hold up to six padlocks at a given time allowing multiple lock offs.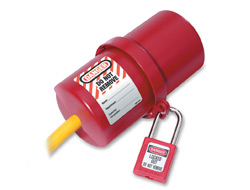 The Masterlock 488 Electrical Plug lockout is available in two sizes and can be used to prevent accidental reconnection of a power source. Its it fits around any electrical plug it can also be used to ensure that machinery is not switched off where a constant power source is essential. This plug lockout is highly resistant to extremes in temperature (-46c to 177c) as it is manufactured from the same Xenoy alloy as the safety padlocks. A padlock with a shackle diameter of up to 6mm can be used to secure it so ideal for your workers to add their own safety padlock. Multi-lingual, high-vis warning labels are included with space to add your own identification or instructions.