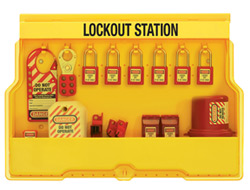 Once you have selected all your safety padlocks and lockout hasps you will need somewhere to keep them. The Masterlock Lockout Station is made from heat resistant and durable Xenoy alloy. It has a large capacity with 8 hanger clips, which can hold 2 padlock or hasps each, and is deep enough to accommodate the large plug lockout unit. Using the holes provided in the bottom, you can add peg hook hangers to store larger pieces of your safety kit. The station is supplied unfilled to allow you to make your own selection of safety products and has a lockable cover so you can padlock it to restrict access to authorised personnel only. Custom orders can be made for larger and more complex set ups.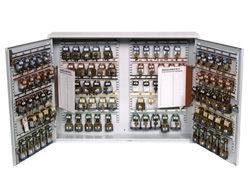 If you require a full safety padlock and key storage system then you may wish to consider the Padlock Cabinet by Securikey. It is available in three sizes with the ability to hold from 24 to 100 keys and their respective padlocks. Each hook can take up to a 50mm padlock and its individually numbered key ring. Supplied unfilled you can create your own bespoke system complete with log so you are aware where each padlock is situated. The lockable cabinet uses a high security cam-lock with over 200,000 differs as standard although other mechanisms are available upon request. Although specifically designed for housing padlock used on isolating machinery or electrical gear, it is perfectly suitable for other security applications. Schools, local authorities and businesses who want security for their padlock and key system may well find this cabinet beneficial too.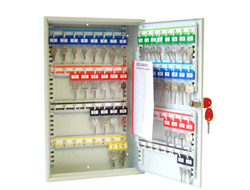 The use of a key cabinets is ideal when a large number of keys are utilised. The key cabinets by Securikey are made to order and manufactured from 1.5mm pressed and folded steel secured by an anti-pick lock. Depending on the model selected, they can hold from 30-100 keys and have a system sheet to record specific key data, which can be removed at night for additional security. The key hooks are colour coded in batches on 10 and have their own individual numbered key ring for easy identification.