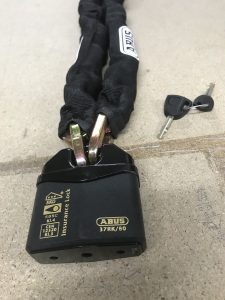 The best method to secure your motorbike is to combine a number of security measures such as disc locks, security chain and padlock. This can also include the use of a ground anchor when looking for a more permanent security fixture when parked up at home. Your bike may well have come with a steering lock and if it does then you should certainly use this as well. However, this may not be sufficient on its own as it can be broken and your bike simply wheeled away.
A disc lock can be applied to the front wheel, or even better, on both wheels. The APC Motorcycle Disc Alarm Lock is a low cost alternative to some of the pricer models on the market. Made from solid steel, it uses a 6mm securing pin that fits through the gaps in the disk brake to help prevent the wheel from rotating. It comes with an integral alarm unit and although this is not designed for prolonged use outdoors, it does come with weatherproof electronics. That said, it is best used where the bike is stored under cover and the lock faces upwards to prevent the alarm holes being exposed to the rain.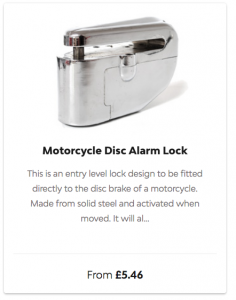 The disc lock should be used alongside other measures to give a higher degree of protection against the bike being stolen. A high security chain such as the hardened steel Abus 8KS110 or Abus 10KS110 are available in various lengths, so you should find one to suit. Select an immovable object or at least another bike and pass the chain through the frame and back wheel, securing it with a padlock. Remember to keep the chain and padlock off the ground to prevent thieves smashing them.
Dependant on the padlock you select, you can either put both links into the padlock, or these Abus chains are designed to allow one loop to be threaded through the other. These means you will only have to fit one loop into your padlock. A popular padlock for securing motorbikes are the high security Granit range which are available in a number of options including the new Abus 37ST/55 high security marine grade version.
When storing your bike at home in the garage you can have the added protection of a ground anchor. Using the padlock and chain you can secure the bike to the ground anchor, in the same manner as you would an immovable object when out and about. The high security Abus Ground Anchor is Thatcham approved and Sold Secure rated. It can be attached to wall masonry or a concrete floor and comes with the necessary fittings, although you will need a heavy duty drill to install it. Once in position it is drill resistant and comes with a 16mm shackle, so a decent bit of kit.