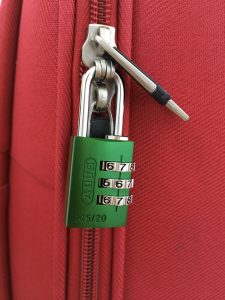 The Abus 145 series are high quality yet lightweight combination padlocks that will not add unnecessary weight to your luggage and are ideal for use on rucksacks, overnight bags and larger cases. They are available in a large selection of nine great colours in three different sizes. The solid aluminium body with anodised coating gives corrosion resistance and suits the occasional outdoor use.
The larger sizes of these padlocks are often used for lockers but we also find that they are increasingly popular with those taking part in leisure activities such as walking holidays. Often on these holidays, the luggage is taken from one stopover to the next by transport and you simply have your small rucksack for the days walking.
The lightweight body and 3mm shackle make it easy to add the Abus 145/20 to a rucksack or day bag without any great weight increase. You may be somewhere more remote during your walks but when you head back into town it can be to more crowded places so your rucksack is better being secured.
A combination padlock it is ideal to use in activities such as walking as you really do not want to be losing your key whilst up the nearest hill or mountain. You can set the combination to one of your choice so hopefully easier to remember too.
With the variety of colours, those heading off on walking holidays find the fact they can get the same colour in different sizes very useful. When you reach your stopover, whether it is your own room or in a dormitory, it is ideal to be able to secure your belongings to give you that extra peace of mind. The Abus 145/30 or Abus 145/40 version is suitable for your larger bags giving that extra security and you could even match the colour to the padlock on your rucksack. Given that nine colours are available it could that a different colour is allocated for each member of the group making it easier to spot which one is yours.