I am heading off on a walking holiday with friends and we will be staying in hostels as we work our way around our route. Can you recommend some padlocks that would be suitable for securing our rucksack / day bag when out and about and for our larger bags which will be left at the hostel. Do you have padlocks in different colours so it is easier to tell which padlock is our own?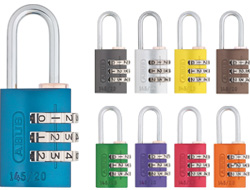 The Abus 145 series combination padlock is available in a variety of nine intensive colours and three different sizes so they are suitable for both your smaller and larger bags. Although these are often used on lockers, the high quality yet lightweight padlocks, will not add unnecessary weight to your bags. The solid aluminium body with its anodised coating gives corrosion resistance and suits the occasional outdoor use they will be exposed to.
Given the number of colours available, you can all have different ones to make it easy to spot which is yours. A combination padlock is ideal to use in leisure activities such as walking as you really do not want to be losing your key whilst up the nearest hill or mountain. You can set the combination to one of your choice so hopefully easier to remember.
Wherever you are doing your walking, you are going to need to take some items with you in your day bag. The Abus 145/20 version with it's 3mm shackle is ideal for use on most rucksacks to keep them secure. You maybe somewhere more remote during your walks but when you head back into town then you will be in more crowded places, your rucksack is better being secured.
When staying at a youth hostel whether it is your own room or in a dormitory. Either way it is ideal to be able to secure your belongings to give you that extra peace of mind. The Abus 145/30 or 145/40 version is ideal on your larger bags giving you that extra security. You can match the colour to that of your rucksack padlock so it is still easy to identify.