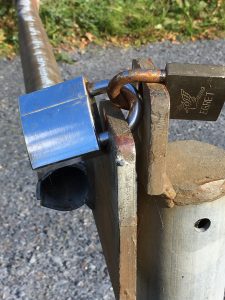 Offset gate barrier fittings can be hard to secure but there is a way to get around this. When the holes on the gate fitting do not line up with the holes in the plate on the gatepost it can be hard to secure the gate, especially if the holes are too small to use a chain. In this situation, even a long shackle padlock would find it hard to make the angle across the two fittings you might have. Although you are not able to use a chain, you could create a similar effect by linking two padlocks together.
Loop the first padlock through one of the fittings and close the padlock. Then take the second padlock and thread it through both the second fitting and the shackle of the first padlock. This will link your barrier and post together.
If the barrier is in a remote location or on the coast then it is likely to be subjected to harsher weather so a marine grade padlock like the Abus 70IB/45 may suit. Our weatherproof section includes padlocks of various sizes and security level so this method can be applied to most offset gate fittings.
If you go for a keyed alike option, for example, the Abus 65/60 then you will have the added advantage of only needing one key to open both padlocks.
Alternatively, you may wish to use an outdoor combination padlock such as the Masterlock 1174D avoiding the use of keys entirely.