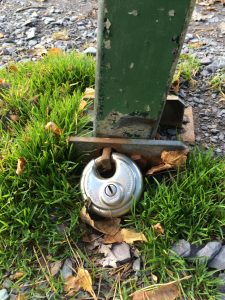 The Abus Diskus range is well suited for securing the folding parking post used to close off tracks and drives to vehicle access. By securing the parking post in the upright position with a suitable padlock, it is an ideal way to still allow access for pedestrians but not to vehicles.
From the Abus 23 Series entry level padlocks to the Abus 24IB Weatherproof Series for those harsher environments. The design of the Diskus padlock means once the padlock is applied to the post fitting then very little of the padlock shackle can be seen. This makes bolt cutter and saw attacks much more difficult.
All the Abus Diskus padlock ranges are designed to be key retaining, meaning that the padlock must be locked again before the key can be removed. This added security feature helps to eliminate the padlock just being left open at the point of use. There are many times when a padlock has just been left on the ground as the user forgets to lock it.
Where there is the need for a number of people to have vehicular access then the keyed alike option is a perfect choice, giving each key holder the ability to open the gate post and allow access when required. The keyed alike option would also work well if you have a number of gate posts and would like the padlocks to operate from the same keys.