When you have a site that requires high-security padlocks but with different sizes and key options it can be hard to know where to start. Selecting a range of padlocks like the Abus 83 series could be the answer. You know you are getting great quality across all the padlocks and can select the right ones for each site requirement.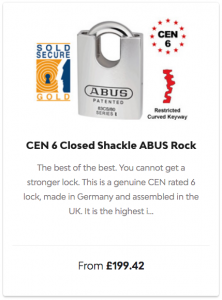 For your highest security level padlock, the restricted Abus Rock 83CS/80 CEN 6 insurance rated padlock would be ideal. This is one hefty padlock with its 15mm hardened steel shackle, which due to its design fully removes from the body when unlocked, making it so much easier to fit. The four shoulders of the 360-degree closed shackle design mean that anyone attempting to cut the shackle must in fact do the job twice, as the shackle will not swing open with only one cut.
This is our highest security padlock which is assembled specifically to your order and uses the patented anti-copy dimple key. As a restricted keyway, this means that any additional keys must be ordered through the authorised suppliers rather than just popping down to the local locksmith. The addition of a code card means that extra keys can only be ordered by authorised personnel. All adding to your security. You can select to have your Abus 83CS/80 padlocks keyed to the same keyway when all the key holders need access to the entire section. Alternatively, you can have them individually keyed if you need to restrict access even further.
For your smaller padlocks that still need a good level of security, you can stay with the Rock padlock family. The closed shackle Abus 83CS/55 or the Abus 83/55 open shackle are both CEN 4 rated. These strong, reliable padlocks belong to the Abus Rock series and are affectionally known by some of our customers as the Baby Rock. Robustly constructed with a solid hardened steel body and 11mm closed shackle, the little brother of the Rock family proves a tough ask against bolt cutter attacks.
The Abus 83CS/55 and 83/55 can be supplied in a number of keying options. Each padlock can be key differ or keyed alike, though please note that they cannot be keyed to the bigger 83CS/80 as they operate on a different keyway. A further option of the 83/55 or 83CS/55 padlock is to have the unique Key it Twice feature added. This gives you a second set of keys which will automatically disable the first set if you feel the security has been compromised. Useful if keys have been lost or there is a change in personnel and security protocol needs changing. Bringing the second set into use instantly gives you back your original security level without the need to replace all the smaller locks.