How do I make sure that my bike is secure? I am often out on my bike so need something I can lock it up with when I stop but I also want to make sure it is safe at home. Do you have any suggestions?
Whether you have a top racing bike or the good old faithful pushbike, you need to consider how to secure the bike, both at home and when you are out. Depending on where you are leaving it, the type of bike you have and possibly, even how long you are going to be away, are all going to be considerations. Firstly take a look at your bike and decide how much security you require. As much as you may love your bike, how attractive is it to thieves? If you own a top of the range bike then you will definitely be looking at an increased level of security. That said it would be still very annoying to come out of the shop to find your mud covered, bike about town, has been stolen.
Common methods of securing your bike include the use of U-Locks, cables, chains and even ground/wall anchors. It can be advisable to use two locks if possible, giving you the option to secure through both the rear and front of the frame. If your bike is of value you may wish to use two different types of lock as a potential thief would have to carry the means to break two different locks.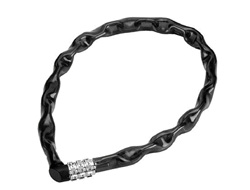 If need to lock up the bike on your travels then you will need something lightweight, secure and easy to transport. The Abus 1200/600 budget bicycle chain is a low cost and convenient cable with plastic sheath for weather protection. This one comes with a pre-determined 3 digit combination rather than one you set yourself.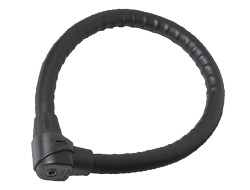 The Abus Granit Steel-O-Flex is top rated cable lock which is well know in the bicycle world. Made using high-tensile 25mm hardened steel shells, thieves know from the sight of this cable how difficult it would be to saw or cut through. Sold Secure rated to Gold with the Abus Plus mechanism which cannot be picked it gives you that increased level of security you may require.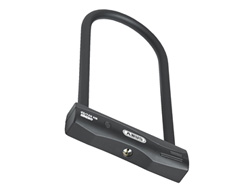 The weatherproof Abus bicycle U-Lock is a very good design coming with the Abus 5-pin mechanism which giveing high resistance to picking. Independently tested to Sold Secure Bronze grade. Complete with a handy universal bracket so the lock can be attached to the frame. The shackle is also long enough to enable you to secure the bike to a gate, railing or lamp post.
If using a U-Lock then there is a couple of things to remember. When fiting it around the frame, fill as much of the lock as possible as this will reduce the risk of something being used as leverage to snap the lock. Also do not attached the U-Lock so it is lying on the ground as a hammer can be used to break the cheaper models.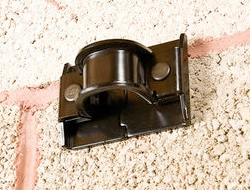 At home you can consider additional measures as securities will not have to be so portable. It is advisable that if locking the bike at home then still secure it as if in the street, unless you happen to keep it indoors with you. Often people will just tuck their bike into the garage but even here you should still secure your bike. The Abus WA50 wall/ground anchor is a good solution where you can use a chain to lock you bike to the anchor.
What ever you decide to use please remember to attach the lock to an immovable object or your efforts will be in vain. Also make sure they cannot simply lift the bike, complete with lock, over the object you have selected such as a sign post. It is surprising how far a thief might go to get your bike.