If you are looking for a high security padlock that meets many insurance company requirements, then the Squire Stronghold range could be just the thing. Squire's high security Stronghold padlocks head up their CEN rated range. They are available in key differ or keyed alike options in both the open or closed shackle, giving great flexibility in their application.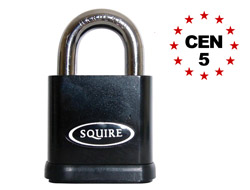 The open shackle Squire Stronghold SS65 is constructed with a 13mm hardened boron alloy shackle and hardened steel body. As the name suggests this Stronghold padlock is designed to resist the toughest of attacks and has a CEN 5 insurance rating.
Ideal for use outdoors with it's electophoretical coating and although Squire have run it through extensive salt spray testing, this does not class it as a marine grade padlock. It will however, offer excellent resistant to those harsh weather conditions that can be found inland.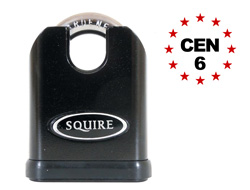 Where your fittings allow, you could increase your security further and use the closed shackle Squire Stronghold SS65CS. Manufactured to the same high standard but with the added protection around the shackle. This has the highest rating of CEN 6 and should meet many insurance company requirements. As with any requirements from your insurance company, please check this products meets or exceeds what they require.