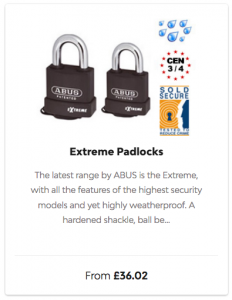 A good quality, high-security padlock that is great in all weathers is the Abus Extreme 83WP series. The combined use of the specialist weatherproof treatment coating from the Abus Granit range and the nano-protect treatment from the Abus 41 series, gives this padlock great protection for use in exposed environments. The hardened alloy steel shackles, anti-pick barrels, and the increased security technology of the double ball bearing locking mechanism, makes this lock an ideal high-security padlock. There is even a handy keyguard to help minimise any dirt and debris getting into the key barrel.
Available as an open shackle in either 53mm or 63mm sizes, with the addition of the closed shackle option in the smaller 53mm size, this range offers great options. Giving the same high resistance against the weather, the closed shackle provides the added protection against force attacks and bolt cutters.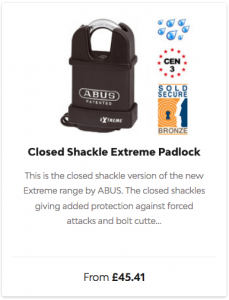 These padlocks are recognised under a number of insurance and testing standards. The two sizes of Extreme lock both hold the standard BSEN 12320 with insurance CEN rating to grade 3 in the smaller size and grade 4 in the larger. In addition to this, they are also Sold Secure rated to Bronze and Silver in their respective sizes.
The Extreme padlocks come key retaining as standard, so the padlock needs to be in the closed position in order to remove the key. Very handy if you have users that tend to leave the padlock lying around once they have opened it. The fact they need to close off the padlock to get their key back often helps to nudge the user to put the padlock back. If you prefer the snap shut format then technical advice is available to show you how to convert the padlock version. Click on the link for more details on this process www.padlocks.co.uk/advice/key-retaining-padlock.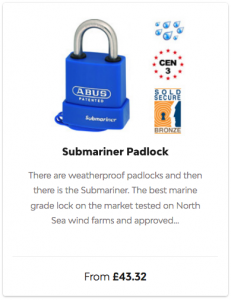 As robust as the Extreme series can be, there are times when you need a padlock with even greater protection against the elements. Step up the Abus Submariner 83WPIB/53. This is a fully marine-grade padlock with all the excellent qualities of the rest of the Extreme range but is manufactured using stainless steel components. The Submariner stands up very well to the salty environments along the coast that would corrode a standard padlock within days. As a testament to just how tough this padlock can be, it is currently used to lock up the wind farms in the North Sea and still works perfectly.
The Extreme range, including the Submariner, are available in a number of different key versions from key differ, keyed alike and even a restricted key option giving plenty of choices to suit your security requirements.