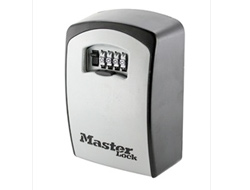 There are times when you need to leave a spare key to allow visitor access. Gone are the days where you can simply pop a spare key under the flowerpot or doormat. Instead you could install the Masterlock key safe which is available in both small and large sizes. This simple box can easily be fitted on most surfaces and you can put your spare key inside. Access can then be gained by those you have given your combination code to.
Ideal for situations like an elderly parent, who may not easily be able to let in their visiting carers but you want to be sure who can gain access. The care team changes due to shifts so it saves running around with a key to make sure they can get in. As only those who need access should be given the code this may also mean that they are not opening the door to strangers, which can give extra piece of mind.
Or does your garage collect your car when it goes in for servicing? Rather than have to be in to give them the car key you can leave it in the key safe and let them know the code. You may even have older children who come home from college and need to get into the house. How often have they been known to lose the key? That said, there are plenty of adults who may also benefit from having a key safe for this very reason. You may have even lost your own keys before, at least with a key safe, you can use the spare key you have stored to allow you access back into your home. Sorting out lost keys is always much better if you don't also need to repair any damage caused getting back into your home.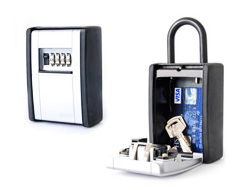 For those of you who would like to use a key safe but for those occasions when away from home, then you could look at the Abus Combination Key Garage. It comes with a shackle that can be fixed to a pipe, bike frame, looped door handle or even a car chassis. Fixing the key garage to your car chassis is ideal if you are off enjoying activities such as water sports, climbing or jogging and really do not want to carry your car keys with you. After all it would not be ideal to lose your keys up a mountain or in the lake.
Whichever of the products you go for, we advise that the key safe is placed out of view especially if you are leaving your main house or car key inside. Either of these products can be set to your own four digit combination so easy to set one you will remember. Depending on which size key safe you select, then you can fit 4-6 keys inside. It is also handy to store other items such as credit cards. Suitable for outdoor use and weather resistant we would not recommend storing anything perishable inside and water and condensation may get inside.