We have some storage boxes on the roof of our narrowboat which are used for items we do not need everyday. Although it does not need to be high security, we do need to lock them off, especially when we are away from the boat. We really want to avoid having keys if we can help it so we don't risk losing them into the canal! The fitting on the boxes means we need the inner part of the loop to be at least 30mm high but still keeping the thickness of the loop to 7mm or less. Is this possible?
The Shield MC40 maybe the smallest weatherproof combination padlock we stock but it stands up well against the other major combination padlocks on the market. It is nice and simple to use yet offers exceptional weather resistance even in exposed environments. Ideal for use in those less sheltered spots on the canals. The shackle has a 34mm inner height with a diameter of 6.5mm so would fit well in the dimensions you need.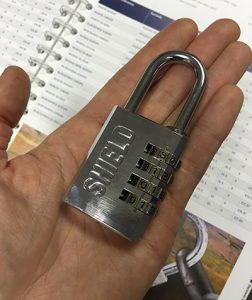 As you can see it is not a small travel type combination padlock but a high quality sturdy piece of kit. Purely due to the size of this lock, we would consider this a low security option but it is ideal for boat lockers and external storage boxes.
The stainless steel shackle and mechanisms, along with a chrome plated body, means this padlock performs well in the both inland waterway and marine environments. Although we know people using the inland waterways will not have to endure the same harsh environment of those sailing the high seas, it is important to use a high quality padlock.
Therefore it is good to know that this padlock performed well in our marine quality tests, which also included being continually sprayed by very salty water to simulate marine conditions. In addition to our testing, a well known sailing magazine completed their own review of all the major marine padlocks, with the Shield MC40 coming out as Best in Test. If it can stand this type of testing then you can be confident it can tackle the watery environment of our inland waterway system