Q: We have a shipping container with an enclosed lock box on the front which makes it difficult to get a big padlock up inside and locked onto the metal ring. Is there a good solution?
A: We get this question a lot since containers are being used more and more for work site and self storage. You're right that a lot of them have this big metal box on the front which is excellent for security but limits the types of lock you can use. Two types stand out which are listed below but we also have a page dedicated for Container Padlocks Here.
Removable shackle types
These are high security insurance locks whereby you can remove a small grub screw on the side of the lock and remove the shackle entirely. The screw is simply a retaining screw so it can be removed permanently. Once unlocked and removed you put your hand and the shackle up inside the lock box and then once through the loop, attache the body of the lock to the padlock.
There is only one style of lock that does this and it is called the Granit by ABUS. Coincidentally it is also insurance approved and one of the most reliable locks on the market.
Note that in some cases the longer shackle types might give you more room to maneuver!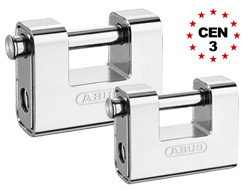 Warehouse / Shutter Padlocks
These are padlocks with a straight shackle rather than a U-shaped shackle. This means you just align the lock with the loop that is up inside the enclosed lock box and then just slide shackle closed. Dead easy.
Clearly you still need to measure up and ensure that the metal ring inside the lock box will fit inside the gap of the padlock and that the padlock bar is not thicker than the hole in the locking loop.
Also, you need to make sure that the key entry and shackle extrusion are the same side of the lock otherwise it will not work on the container. Some other warehouse / shutter padlocks have the key entry and shackle extrusion on opposite sides which is why we recommend the ABUS 92 series. (See picture at top).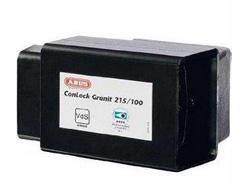 Specifically designed container locks
Where you have a container without a lock box then it is prudent to add one yourself. You can either have someone weld one to the container or use something designed for the job like this container lock to the right.
You bolt it onto the container via holes that you drill yourself. Then the whole unit comes with a padlock specifically designed to fit . In fact, it is one of the long shackle Granit locks where the shackle can be removed entirely.